SankalpTaru has approached the remotest regions of India, where rural farmers especially female farmers struggle to improve their financial condition because of the lack of support, guidance and assistance. Research indicates that women farmers are deprived more as compared to when it comes to government support and resource allocation.
SankalpTaru emphasizes the empowerment of rural and women farmers by encouraging them to step in the domain of agroforestry by planting fruit bearing trees on their farms to accentuate their incomes while providing technical assistance concerning water management techniques and improving the quality of soil and crop harvest.
Let us see stories of such female farmers who have been benefitted with SankalpTaru's involvement.
Story of Pratibha from Vidarbha, Maharashtra
Talking about the plight of the farmers of Vidarbha strikes a frightening chord as the region has been becoming more and more identified with the alarming rates of farmer suicides, in the current years.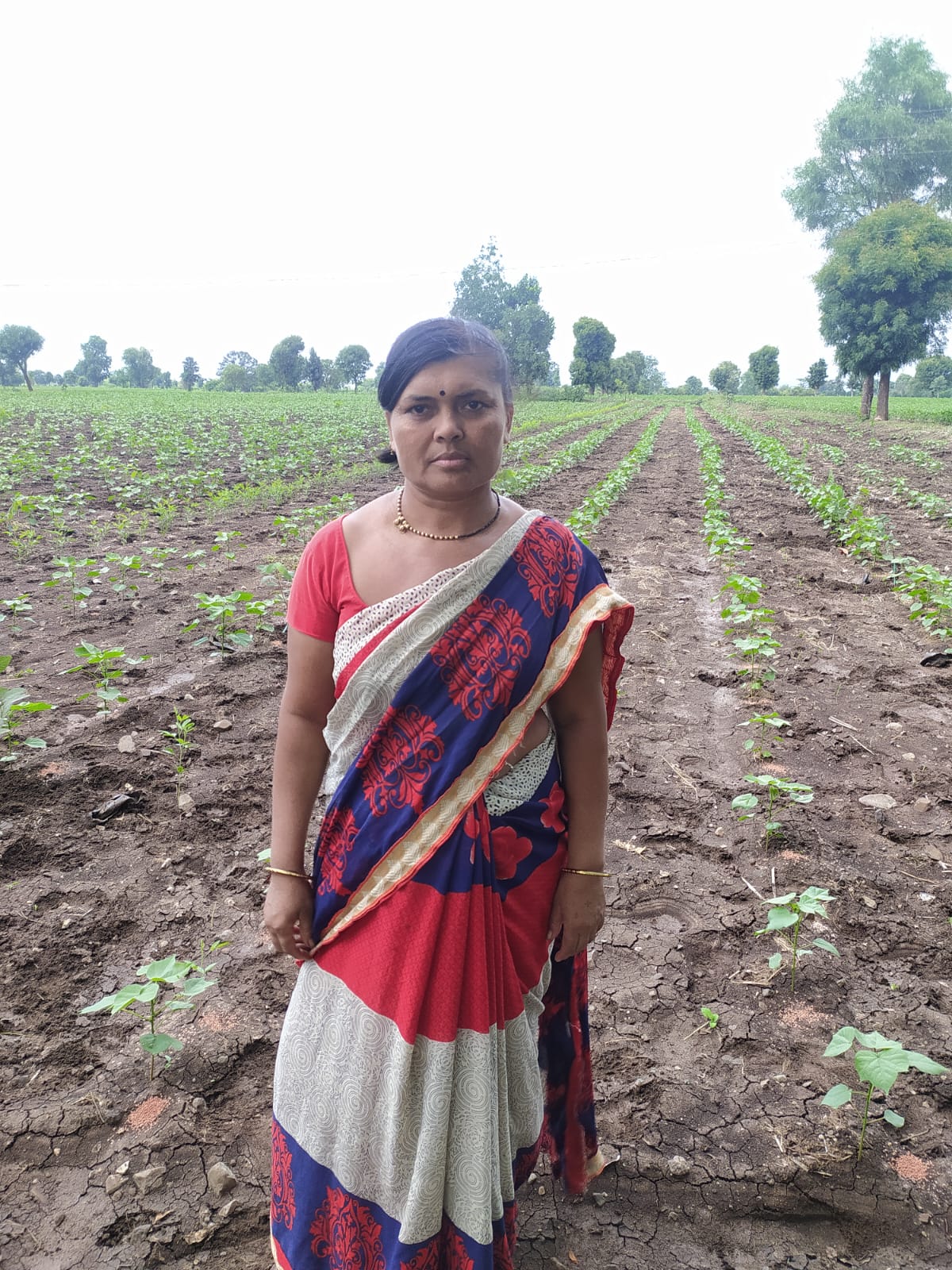 One of our women beneficiaries, Pratibha also lost her husband to the consequences of the unprecedented weather conditions and water scarcity, prevalent in the region. He had become a victim to the downspiral of a viscious cycle of debts, this together with his other personal problems took a toll on his health, and eventually life.
Since his deminse, his wife had been the one left with the responsibility to cater to a family of 4, including her 3 young children and her mother-in-law.
She had been working on her 3 acres of land as sincerely as she could but was not able to reap the benefits of her hard work due to sporadic rainfall patterns and lack of information to improve her farm's yield.
SankalpTaru had already been working in Vidarbha region since 2019 and when Pratibha was approached and briefed about the support, she readily agreed to sign-up as its farmer beneficiary.
Her existing crops of soybean and peanut were intercropped with lemon, guava and custard apple. The problem of water scarcity was addressed through drip irrigation.
Due care and follow-ups were conducted by SankalpTaru co-ordinators. And with the hardwork and determination of Pratibha, the trees started to bear fruits within 2 years. Deep satisfaction took place in her heart when her family started to receive a stable income of around 1.5 lakh/annum despite rough weather conditions! Not only is she hopeful that she will repay her debts but will also be able to provide a good quality of education to her children.
This support has not only maintained the natural habitat of the land but also provided her family with that additional income.
Story of Hemlata Kale from Ballari, Karnataka
We are all aware of the petrifying times of covid pandemic and the number of lives it sweeped across the country.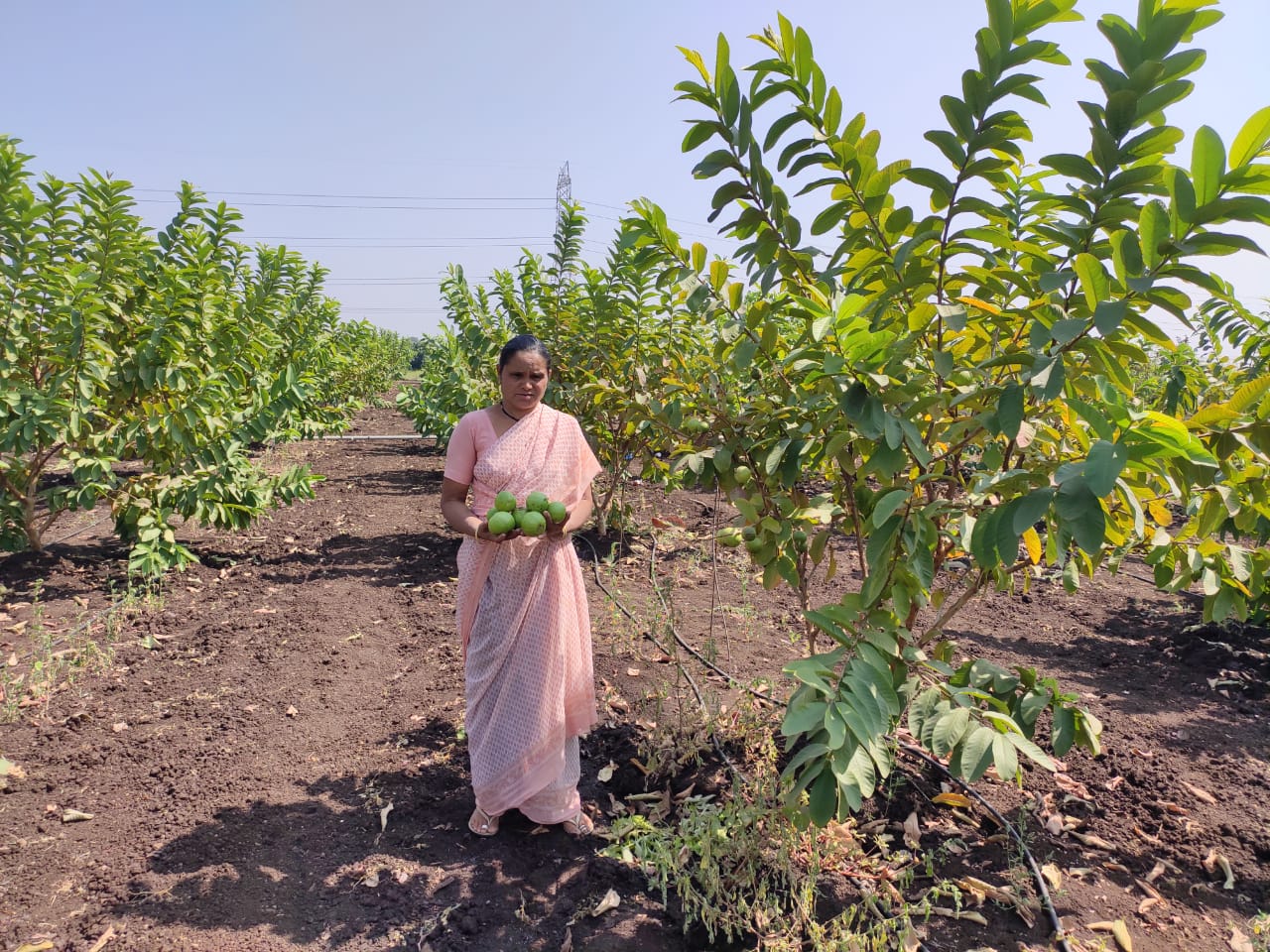 Unfortunately, our women beneficiary, Hemlata Kale also lost her husband during those difficult times. Having being exhausted all the savings for her daughter's marriage to save her husband's life, she was left with no financial backup to continue with her family's and farms routinely expenditures.
She was barely able to keep afloat her farm and was struggling to save money for her daughter's marriage. Moreover, the unpredictable weather conditions harshly affected her crop yield and she faced massive crop failure. She continued to struggle to make her 4 acres of land productive for optimum crop yield for the coming seasons.
During one of the field expeditions of SankalpTaru team, her farm was explored and surveyed. Understanding her family's dire need for support, our team agreed to plant 745 fruit bearing saplings in her land. The On-ground coordinators also educated her on ways and methods to improve the quality of the soil, and sustain optimum crop yield under the prevalent climatic conditions.
100% survival rate of these planted saplings was ensured to the farmer and some of the saplings which could not survive due to unfavorable climatic conditions were also replaced by the team.
After 1.5 years, she started to witness her farm turning greener more than she could ever expect and has been able to sell her good quality produce with ideal profits for the successive harvest seasons. She is happy to receive an encouraging kickstart to her financial empowerment with the support of SankalpTaru team.
Story of Mousumi Kalita from Jorhat, Assam
Intoduced to agroforestry and intercropping by SankalpTaru, 3 years ago, where our team planted seedless lemon trees alongside her already existing rice cultivation, she has been able to expand her horizons of farm tending to new levels since then!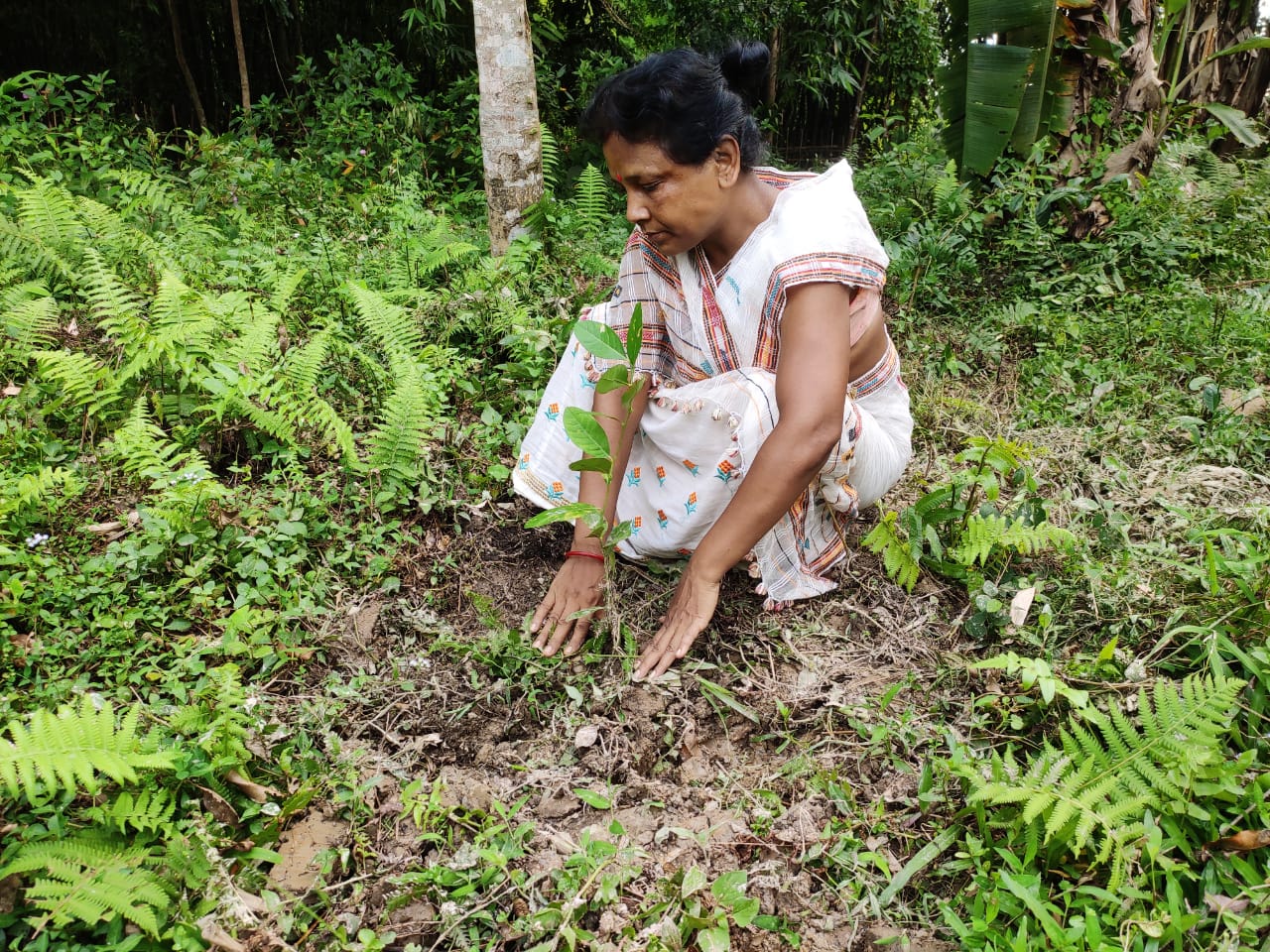 She has been one of the most promising women farmer beneficiaries of our Project Kheojia Assam, and has also been an active participant of the SoCCs Programme conducted by Asia Initiatives in partnership with SankalpTaru.
Social Capital Credits (SoCCs) Program entailed a number of transformative methodologies to empower rural communities. The program included conducting a Waste Management session, a Community Cleanup drive, a Tree Plantation event, and an in-house Composting activity to promote community engagement toward Responsible Waste Management and Environmental Conservation while empowering our women farmers of Assam.
During this program Mousumi was credited with Social Capital Credits (SoCCs) based on her ideal engagement in the activities, which she redeemed to avail the saplings of more seedless Lemon from SankalpTaru.
From the skills she learned during the program, she also started her own kitchen garden and prepared her own organic compost to sustain her fruit bearing trees, vegetables and rice crops.
She has now multiple streams of income and a self sustainable farm that caters to her family of 5. With her diversified income, she has now been able to step up into a new venture of weaving clothes for the local community members as well!
She is a living example of how when a woman is supported with the right resources and trusted for abilities to succeed, she not only transforms her own life but becomes an example for so many others to take charge of their financial independence!
You can help us support many more such female farmers by planting trees on their farms!